Dental implant reconstructions
Dental implants are the top-of-the-range option for replacing missing teeth, and Dr Christiaan Vorster has abundant experience in planning and restoring dental implants.
Dr Vorster received specialized postgraduate training in restoring and replacing teeth, which includes intense instruction in partial and full-mouth reconstructive techniques, dental aesthetics, and restorative implant dentistry.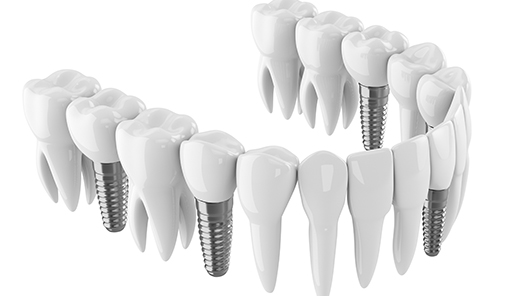 Dental implants are the top-of-the-range option for replacing missing teeth, and Dr Christiaan Vorster's team consists of an array of dental professionals that have abundant experience in planning and placing dental implants.
What are dental implants?

Dental implants are essentially synthetic teeth that are implanted into the jawbone.
The loss of a natural tooth presents a lot of aesthetic, structural and functional issues. Not only will you have a gap in your smile, but the loss also causes the bone in the jaw to weaken and deteriorate which may cause drooping in your face as well. Dental implants are permanently fused to the jawbone so you can avoid these issues altogether.
A dental implant is made up of 3 parts:
A

crown

, which looks, feels and acts like a natural tooth.
An

abutment

, which joins the crown and post.
A

post

, which is implanted into the jaw.
The 3 parts fit together to create the full implant, and they are typically placed in 2 - 3 separate appointments.
Initial Consultation
The process starts with your initial consultation, where we assess your needs, examine your mouth and take pictures and x-rays.
We then create your treatment plan, which outlines the various appointments you'll need, as well as the procedures and costs.
Digital Planning
Our advanced digital software allows us to pre-plan your surgery to ensure the best possible outcomes.
The software helps us to determine the best possible angles, depth and placement of your implants, essentially creating a digital roadmap for us to follow during your procedure.
Implant Surgery
The next step is the placement of the implant. Dr Christiaan Vorster works with a phenomenal team of specialists who have vast experience with dental implants, so you can rest assured that you're in good hands.The surgeon involved begins by sedating the patient, and then opening up the gum to get access to the jaw bone. Once he has access, he surgically places the implant into the bone in accordance with our plans. The angle and depth of the placement are very important to ensure a reliable and comfortable fit so a lot of thought goes into the ideal placement for each unique case. After your implant is placed, you will need to heal fully before we can apply the abutment and crown.
Abutment and Crown
Generally, the abutment and crown can be applied during two appointments. The abutment fits on top of the implanted post and holds the crown in place.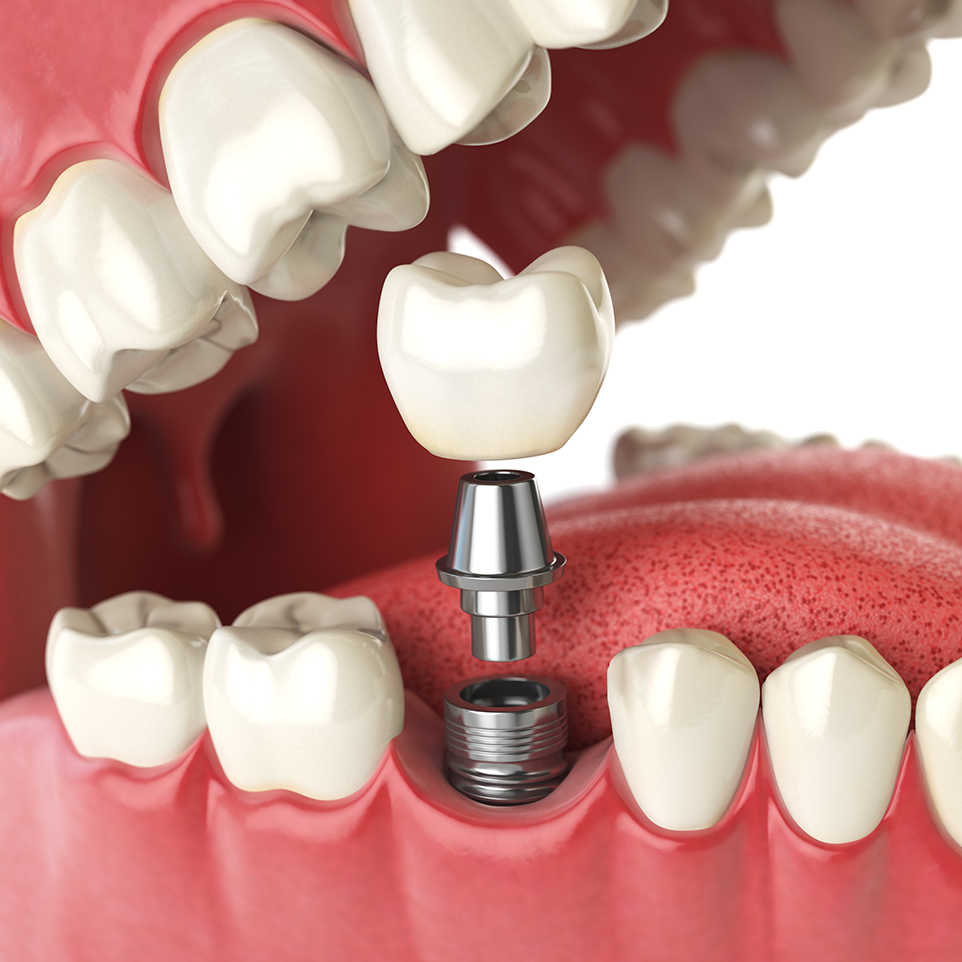 Single tooth replacement
A single tooth replacement is used to replace a missing tooth permanently. A single implant provides several advantages over other tooth replacement options. For instance, the implant replaces a single tooth without sacrificing the health of neighbouring teeth. In the long term, a single implant can be more aesthetically pleasing and easier to keep clean than a standard bridge.
3-unit implant-supported bridge
These restorations can be used when you have more than one tooth missing. Implant-supported bridges use dental implants as opposed to crowns for frameworks. Typically, one implant is surgically placed for every missing tooth, and the series of implants holds the bridge in place. An implant-supported bridge doesn't require any alteration to the natural teeth. Dental implants also hold a bridge securely so that it feels and functions just like the natural teeth.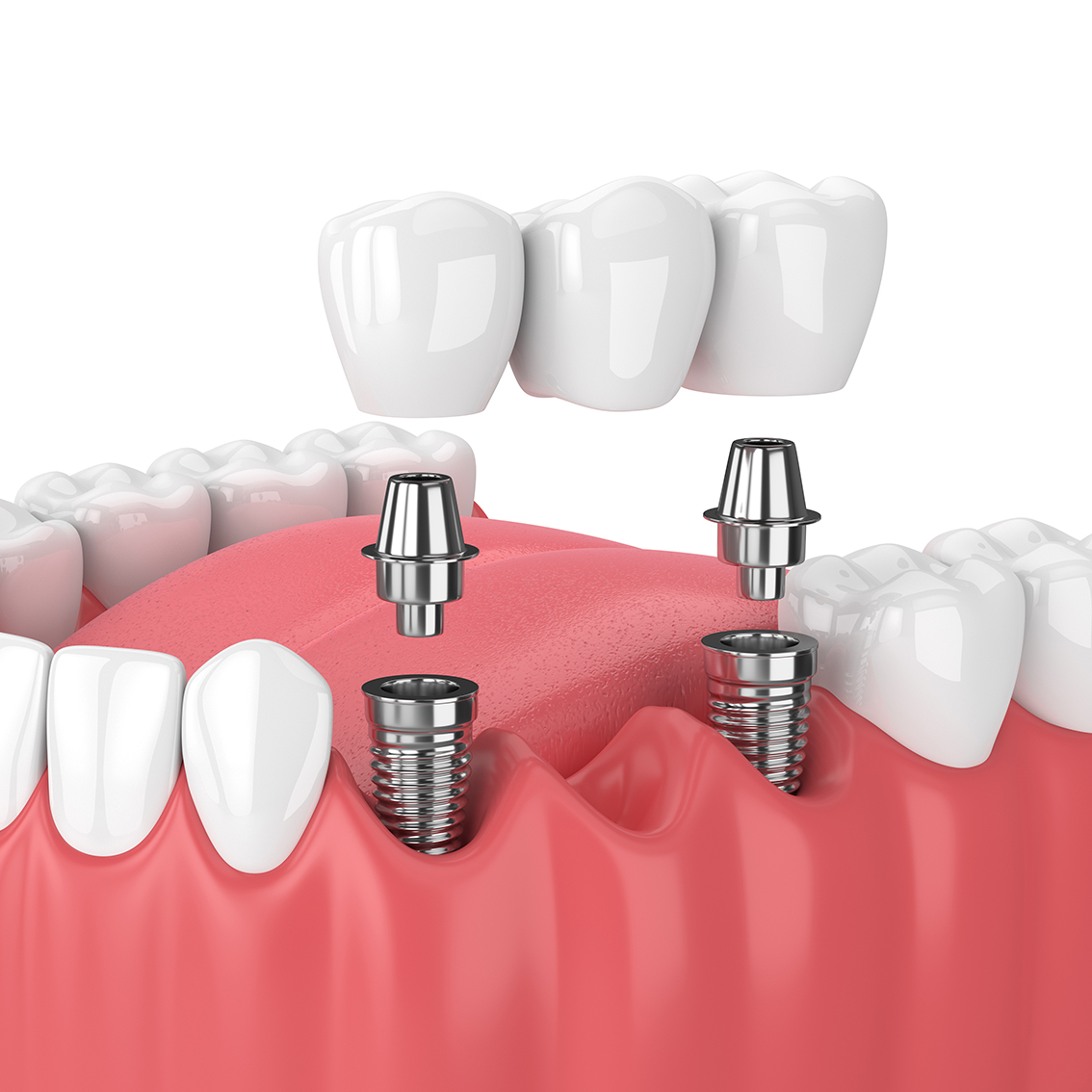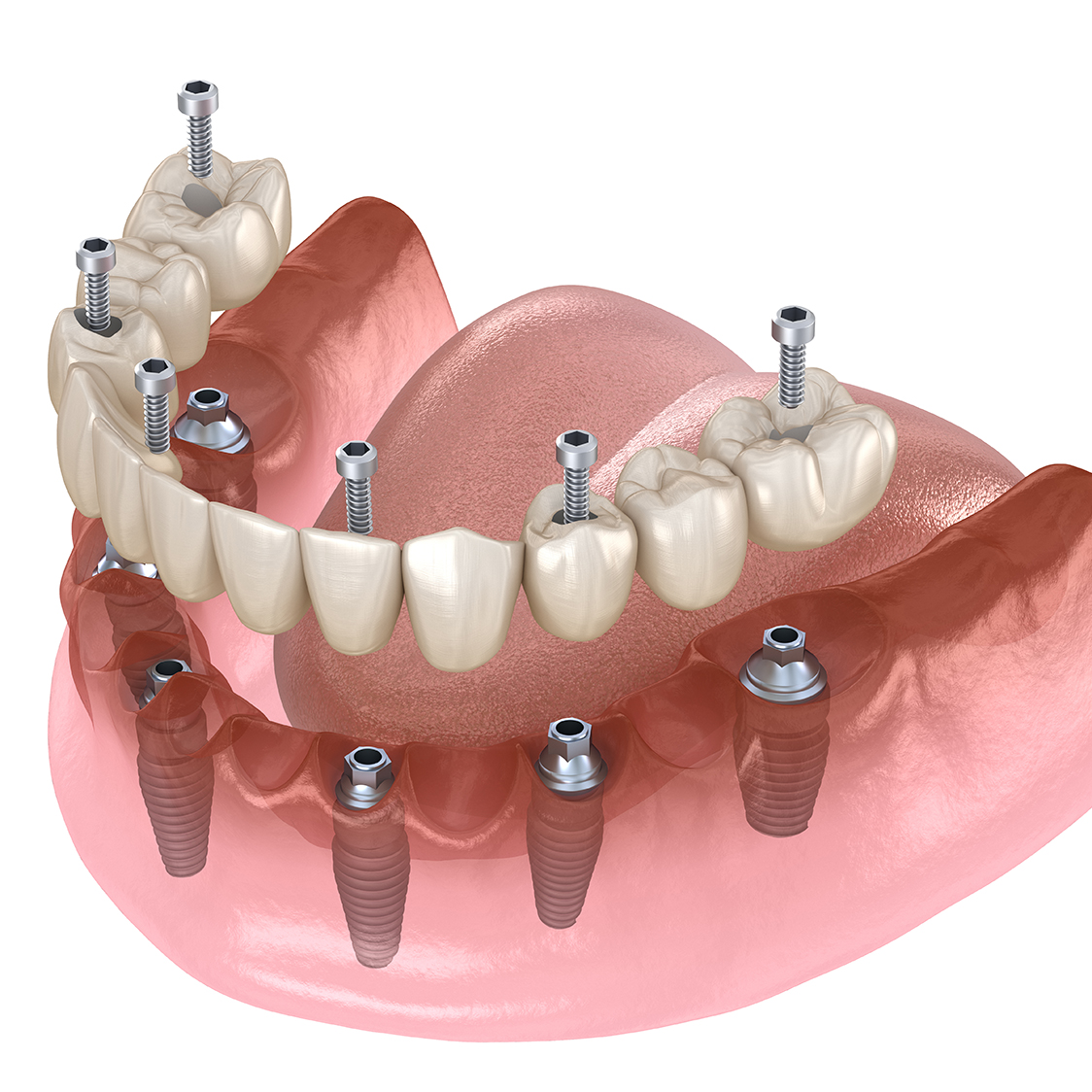 Full mouth reconstruction with 4-6 implants
These implants are the ultimate method to permanently replace your missing teeth, using as many as 4-6 implants in each jaw. Titanium metal posts or screws are inserted surgically into the jawbone beneath the gums. After they heal, they provide Dr Vorster with an opportunity to mount your new teeth on them. The full mouth prosthesis will look and feel just like your original teeth, giving you the ability to eat and speak without limitations.
Maintenance for dental implants
If you want your implants to last a lifetime, you'll need to ensure you do all your routine maintenance. Make sure to brush and floss your teeth every day, and schedule an appointment for a checkup and deep cleaning at Dr Christiaan Vorster and our oral hygienist at least every 6 months.
Check out the other services available at Dr Christiaan Vorster:
Request Appointment
If you need a consultation or would like to make an appointment,
please use the form below or contact us on:
021 851 8123