Full Mouth Reconstructions
Procedures involved in a full mouth reconstruction
---
The set of procedures included in your complete mouth reconstruction will be tailored to your unique case and goals. We typically aim to treat any conditions that may be present, replace old, worn dental work that may be failing, address any issues with the gums and jaw that may be causing discomfort, and repair and replace damaged or missing teeth.
Some of the procedures involved in a full mouth reconstruction are:
Fillings
Professional-grade teeth whitening
Veneers
Root canal treatment
Orthodontics
Gum reshaping
Dentures
Bridges
Crowns
Dental implants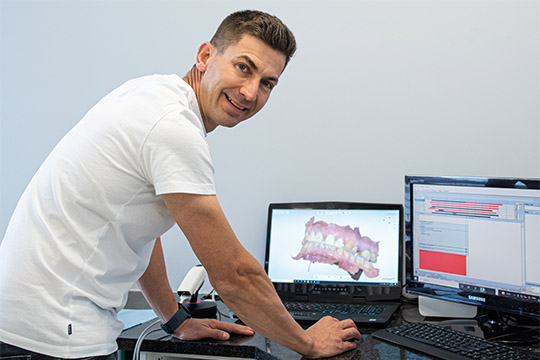 A full mouth rehabilitation usually requires extensive work over multiple appointments, but the result is excellent oral health and a fully functioning mouth that can last for decades - making it well worth the time and effort.
A full mouth reconstruction is a multi-faceted treatment plan that rebuilds the structures of the mouth over several procedures. If you have multiple teeth that have been damaged, you might be a good candidate for a complete reconstruction.
The Full Mouth Reconstruction Process
---
If you are considering a full mouth reconstruction, this is the process you can expect to follow.
We begin by scheduling your initial consultation, during which you can explain your challenges and goals. We will then perform a comprehensive examination to determine whether there are any additional hidden issues that we need to address.
During this consultation, we may also need to do a few tests and take some x-rays. If you have recent x-rays, please do not hesitate to send them over to us.
After the consultation is complete, Dr. Christiaan Vorster will review your goals, problems and test results and create a custom treatment plan which maps out your rehabilitation journey and all the costs involved.
Once your treatment plan is approved, we can begin scheduling your specific treatments and set you on the journey to a healthy, gorgeous smile.
Check out the other services available at Dr Christiaan Vorster:
Request Appointment
If you need a consultation or would like to make an appointment,
please use the form below or contact us on:
021 851 8123