By practising regular oral hygiene at home and scheduling routine checkups with your dentist, you can keep your smile bright and healthy for years.
Here are some tips for keeping your smile in the best shape possible!
Use mouthwash before you brush your teeth - try to find a fluoride mouthwash to remineralise and strengthen your teeth.
Clean the spaces between your teeth by flossing daily. Decay-causing bacteria sits between teeth where toothbrushes can't reach.
Brush your teeth both in the mornings and evenings with a soft-bristled toothbrush. Try to use fluoride toothpaste, so your teeth can get even stronger. Be sure to brush the top of your tongue as well!
Try to eat a balanced diet and avoid sugar as much as possible. Nutritious foods such as raw vegetables, plain yoghurt, hard fruits, and cheese can keep your smile in good shape.
Visit the dentist every six months! Regular checkups are essential to ensure your mouth is healthy and that your oral health routine works for you.
Consider getting dental sealants on your back teeth. A sealant is a protective coating for the back teeth's chewing surfaces - a prime spot for decay.
Invest in a mouthguard or bite plate! If you play sport or grind your teeth while you sleep, you can get special devices made to protect your teeth from wear and damage! Please chat with us about getting a mouthguard or bite plate during your next visit!
Preventive dental care is essential all through your life, no matter what your age is.
Mouthguards & Bite Plates
---
If your lifestyle results in additional wear and tear on your teeth, you may need to invest in a protective device to prevent further damage.
Athletes who play contact sports, like rugby, boxing or martial arts, generally need mouthguards to protect their teeth. These high contact sports carry a lot of risk to your teeth, and many teeth have been lost due to sports injuries. If you or your child are interested in a high contact sport, please chat with us about how you can best protect the mouth and teeth during your next dental appointment.
A bite plate is a device, similar to a mouthguard, that protects the teeth from grinding. Many people grind their teeth when they sleep or when they are stressed, and it causes significant damage. If you think you might be grinding your teeth, give us a call and schedule an appointment to discuss your options.
Fluoride Treatments
---
Fluoride is a substance that is found naturally in soil, water and some foods. Scientists produce a synthetic version specifically for oral health - it gets added to water and used in toothpaste and mouthwash because of its phenomenal oral care benefits.
Fluoride prevents tooth decay. In children under the age of seven, fluoride can help change the structure of their developing tooth enamel so that it is more resistant to decay. In adults, it remineralises the tooth enamel and makes teeth stronger.
At Dr Christiaan Vorster, our phenomenal dental hygienist, Mrs Salomé Botha, can assist with specialised fluoride treatments to strengthen your teeth and prevent decay. During the treatment, Salomé applies a highly concentrated fluoride solution to the teeth. The process only takes a few minutes, but we ask that you don't eat or drink anything for at least 30 minutes after the treatment so the fluoride can fully absorb.
We recommend getting a dental checkup every six months. During this comprehensive appointment, we assess your teeth, tongue and soft tissue, check for any potential dental issues that may be brewing, and give you a great, thorough, professional cleaning to leave your smile in tip-top shape!
Professional Cleaning
---
Part of your routine dental checkup is a professional cleaning, which you should do every six months.
During this cleaning, our highly skilled dental hygienist, Mrs Salomé Botha, will do several treatments, depending on what you need, to ensure your mouth is clean and healthy.
She starts by assessing your smile and pinpointing problem areas where the plaque and tartar buildup are the greatest. She then removes the plaque, tartar and calculus using a specialised device before scaling the teeth using manual devices. The scaling process cleans the surface of the teeth, including the spaces between teeth.
The final step in the professional cleaning process is polishing. Salomé uses a special paste to finely polish the teeth, lifting stains and smoothing the surface.
As she cleans your teeth, Salomé will identify your problem areas. She will then share her findings and advise you on how to change your oral health routine to maximise results.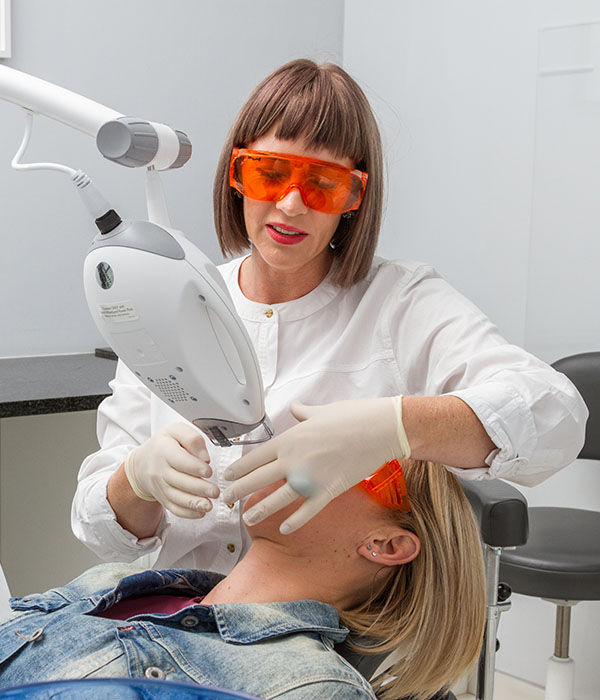 Check out the other services available at Dr Christiaan Vorster:
Request Appointment
If you need a consultation or would like to make an appointment,
please use the form below or contact us on:
021 851 8123